The Robinvale RSL History
Supplied courtesy of the © Robinvale Sentinel

The Robinvale Sub-Branch of the Returned Soldiers' Sailors' and Airmens' Imperial League Australia (R.S.S.A.I.L.A) was formed in 1944, with M. McLeod as President and a small number of members. Prior to this date, Branches had existed in Annuello and Euston and some individuals had held memberships in the State branch.
During World War 11 a number of Servicemen and relatives formed a Comfort's Fund Committee, which raised funds to send parcels to men on active service. This committee also gave farewell evenings and presentations to men and women who enlisted locally and a "Welcome Home" extended to all returning servicemen and women.
With the opening of the Robinvale Soldier Settlement Scheme, membership of the local sub-branch increased with each allocation of blocks. In 1957, there were more than three hundred members. Land for the clubrooms in Latje Roadwas donated by Dr. Ron Cuttle and Mr ('Captain') W.W.N Goode was also a benefactor. These clubrooms built almost entirely by voluntary labour, was Robinvale's only hall. It became the focal point for social life in Robinvale; the venue for many functions from flower shows to Debutante Balls and weddings. There was name change and the organisation became known as the "Returned and Services League," as is still today. Robinvale Sub-Branch R.S.L members gave many thousands of hours in working bees to help comrades in trouble and financial aid was also extended in times of distress. The Sub-Branch has always had the interests of Veterans and the community of Robinvale at heart.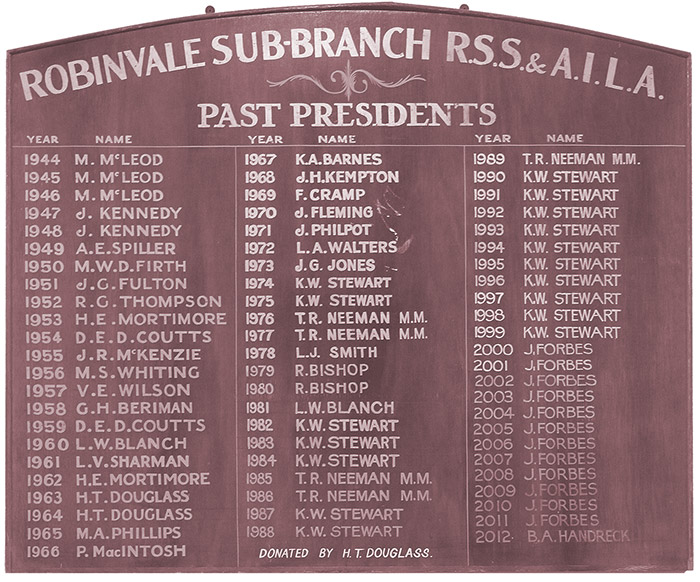 ANZAC Day commemorations in the form of a march and a service at the Cenotaph, conducted by the Robinvale Sub-Branch R.S.L, have been important occasions since the Sub-Branch's formation. A temporary Cenotaph was set up in the Railway Station grounds but the Servicemen planned for a more memorial in a central place in the township. On Sunday April 26th, 1953, the Cenotaph in George Street, opposite Caix Square, was unveiled and the R.S.L Memorial Hall (Clubrooms) was opened by Lieut-Gen. Sir Horace Robertson, in the most colourful public ceremony Robinvale had witnessed. In 1990, due to high maintenance costs and declining use, the R.S.L Memorial was sold and a meeting room and office in the Resource Centre was rented. On August 15th, 1995, fifty years after the end of World War 11, the Sub-Branch held a March followed by a barbeque and a very successful concert to mark the occasion.
In 1997, the 50th anniversary of the beginning of the Robinvale Soldier Settlement Scheme saw the establishment of the Grove of Honour. Two hundred and forty six trees were planted, one for each Settlement Block, with plaques naming each tree for a Settler and his family.
The Robinvale R.S.L was most fortunate to have had the Robinvale Pipe Band play at each ANZAC Day for sixty years, playing at its last March in 2012. The Sub-Branch helped with the formation of Robinvale's P-12 College and Community Brass Band, which now plays each ANZAC Day; a great asset to Robinvale and District.
2015 sees the Robinvale Sub-Branch still active but with numbers declining; current membership is thirty one. Members still make Hospital visits, conduct R.S.L Funerals, assist Veterans whenever possible, conduct local ANZAC and Remembrance Day Appeals and provide end-of-year awards to students at our three local schools.
Ex-Prisoners of War (P.O.W's) In the immediate post-war years, Robinvale had the largest number of ex-POW's of any district in Australia The P.O.W Organisation held several if its reunions in Robinvale.
Ladies Auxiliary
The R.S.L Womens Auxiliary held their first meeting in 1951, at the home of Mrs. Hazel Johnson. Mrs. M. Harrop was elected was elected president. From 1953, the Auxiliary met on the R.S.L Memorial Hall.
The Auxiliary was affiliated with the R.S.L Women's State Council in 1960, with Delegates representing this area attending State Conferences. At this time, Auxiliary meetings were held regularly. There were approximately thirty members and the main fundraising activity was catering for weddings, balls etc. Members adopted local Veterans with no immediate family, remembering them on birthdays and Christmas, with clothing and goodies.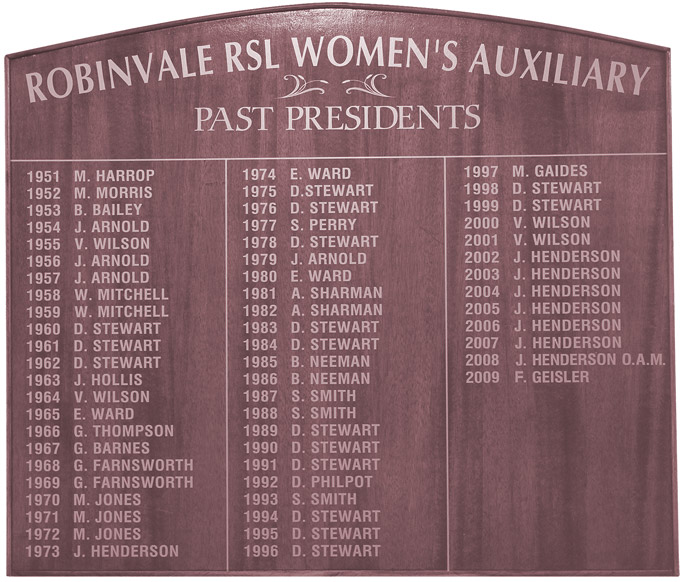 Each year large parcels of knitted goods were sent to Melbourne fro distribution to Veterans in hospitals and nursing homes. New knitted rugs were donated to our local Veterans in the Robinvale Nursing Home.
Members assisted the Sub-Branch, selling ANZAC tokens and Remembrance Poppies. They also supported all working bees and special days with morning teas and lunches. Some ladies served long periods of time holding executive positions on the Auziliary. Over the years special certificates and badges were presented to some members in recognition of their service. 1982 – Certificate of Merit and Gold badge presented to Mrs. Dulcie Stewart; sixteen years as President and two years as Secretary. 1987 – Certificate of Merit and Gold Badge presented to Bea Jones; eleven years as Secretary/Treasurer, seven years as Treasurer. 1987 – Certificate of Appreciation presented to Mrs. A. McTaggert. 1987 – Certificate of Merit and Gold Medal presented to Mrs. M Jones; three years as President, three years as Secretary. 1998 – Certificate of Merit and Gold Badge presented to Mrs. Jose Henderson; one year as President, nine years as Secretary, four years as Deputy Area Officer and ten years as Area Officer.
Fourteen members received Star Badges fir note than fifteen years service to the Auxiliary. Unfortunately due to declining membership, the Robinvale R.S.L Womens Auxiliary closed in February 2011.