Remembering Our Heroes
Supplied courtesy of the © Robinvale Sentinel – Published 2006
Mrs Edna Price of Euston was sorting through memorabilia belonging to her mother Mrs Agnes (Teady) Hennessy, and has kindly allowed us to publish some of them.  It is a rather opportune time for the Sentinel to bring them to our readers seeing ANZAC DAY is just around the corner.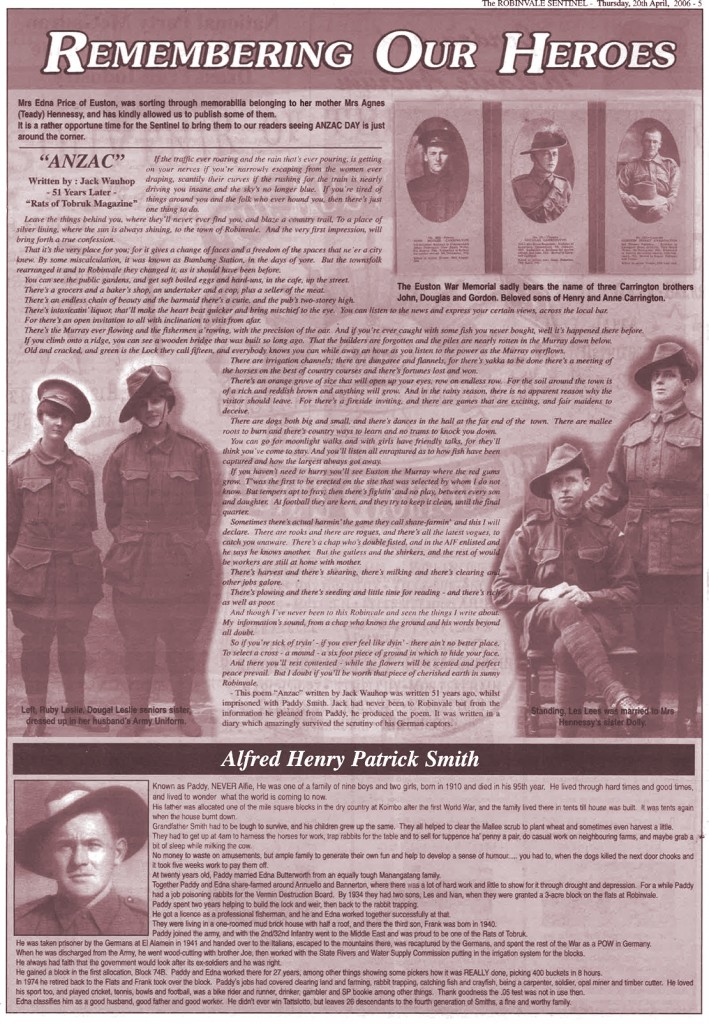 "ANZAC"
Written by : Jack Wauhop
– 51 Years Later –
"Rats of Tobruk Magazine"
If the traffic ever roaring and the rain that's ever pouring, is getting on your nerves, if you're narrowly escaping from the women ever draping, scantily their curves, if the rushing for the train is nearly driving you insane and the sky's no longer blue.  If you're tired of things around you and the folk who ever hound you, then there's just one thing to do.
Leave the things behind you, where they'll never, ever find you, and blaze a country trail, To a place of silver lining, where the sun is always shining, to the town of Robinvale.  And the very first impression, will bring forth a true confession.
That it's the very place for you; for it gives a change of faces and a freedom of the spaces that ne'er a city knew. By some miscalculation, it was known as Bumbang Station, in the days of yore.  But the townsfolk rearranged it and to Robinvale they changed it, as it should have been before.
You can see the public gardens, and get soft boiled eggs and hard-uns, in the cafe, up the street.
There's a grocers and a baker's shop, an undertaker and a cop, plus a seller of the meat.
There's an endless chain of beauty and the barmaid there's a cutie, and the pub's two-storey high.
There's intoxicating liquor, that'll make the heart beat quicker and bring mischief to the eye.  You can listen to the news and express your certain views, across the local bar.
For there's an open invitation to all with inclination to visit from afar.
There's the Murray ever flowing and the fishermen a'rowing, with the precision of the oar.  And if you're ever caught with some fish you never bought, well it's happened there before.
If you climb onto a ridge, you can see a wooden bridge that was built so long ago.  That the builders are forgotten and the piles are nearly rotten in the Murray down below.
Old and cracked, and green is the Lock they call fifteen, and everybody knows you can while away an hour as you listen to the power as the Murray overflows.
There are irrigation channels; there are dungaree and flannels, for there's yakka to be done, there's a meeting of the horses on the best of country courses and there's fortunes lost and won.
There's an orange grove of size that will open up your eyes, row on endless row.  For the soil around the town is of a rich and reddish brown and anything will grow.  And in the rainy season, there is no apparent reason why the visitor should leave.  For there's a fireside inviting, and there are games that are exciting, and fair maidens to deceive.
There are dogs both big and small, and there's dances in the hall at the far end of the  town.  There are mallee roots to burn and there's country ways to learn and no trams to knock you down.
You can go for moonlight walks and with girls have friendly talks, for they'll think you've come to stay. And you'll listen all enraptured as to how fish have been captured and how the largest always got away.
If you haven't need to hurry you'll see Euston the Murray where the red gums grow. .T'was the first to be erected on the site that was selected by whom I do not know.  But tempers apt to fray; then there's fightin' and no play, between every son and daughter.   At football they are keen, and they try to keep it clean, until the final quarter.
Sometimes there's actual harmin' the game they call share-farmin'  and this I will declare.  There are rooks and there are rogues, and there's all the latest vogues, to catch you unaware.  There's a chap who's double fisted, and in the AIF enlisted and he says he knows another.  But the gutless and the shirkers, and the rest of would be workers are still at home with mother.
There's harvest and there's shearing, there's milking and there's clearing and other jobs galore.
There's plowing and there's seeding and little time for reading – and there's rich as well as poor.
And though I've never been to this Robinvale and seen the things I write about.  My  information's sound, from a chap who knows the ground and his words beyond all doubt.
So if you're sick of tryin' – if you ever feel like dyin' – there ain't no better place.  To select a cross – a mound – a six foot piece of ground in which to hide your face.
And there you'll rest contented – while the flowers will be scented and perfect peace prevail.  But I doubt if you'll be worth that piece of cherished earth in sunny Robinvale.
This poem "Anzac" written by Jack Wauhop was written 51 years ago, whilst imprisoned with Paddy Smith. Jack had never been to Robinvale but from the information he gleaned from Paddy, he produced the poem. It was written in a diary which amazingly survived the scrutiny of his German captors. The Euston War Memorial sadly bears the name of three Carrington brothers John, Douglas and Gordon. Beloved sons of Henry and Anne Carrington.