Welcome
To build and secure Robinvale and Euston's future we are looking to fundraise $200,000 for the development of a Robin Cuttle statue to be housed at the new Robinvale Regional War Memorial Park on the Murray Valley Highway.
This aims to build an opportunity, future and legacy for many years to come for the region! Robinvale and Euston have very a special and unique opportunity to set up it's future as well as increasing its economic development in the region. This improves prosperity and gives a 'brand' and exposure for the towns on a national and international level.
As Australia's ANZAC pride and spirit grows nationally, the twin town relationship with Villers-Bretonneux and development of the Memorial Park aims to capitalise on:
Positioning Robinvale and Euston as a national and iconic destination
Robinvale is very well positioned amongst 4 capital cities and hundreds of regional towns
Spiritually it creates a regional 'home' in Australia to commemorate with direct links to the Western Front and all other conflicts
Connects better to our nation's ancestory for all countries
Creates Robinvale's unique marketing and brand position
Gives international exposure as a significant war memorial centre representing regional Australia
Increases media attention for Robinvale Euston and the region
More visitors to Robinvale improves spend in the region, training and capital investment
Supports and creates jobs for the future
Statue specifications
The statue will be 125% over life-size, silicone bronze – more than 8 feet tall plus the lymph stone height.
Production time is approximately 4 months for the artwork sculpture and 4 months for the bronzing.
It will stand tall and proud near the Murray River with the beauty of the War Memorial Park and the connection to Villers-Bretonneux and Australia's ANZAC spirit.
About the Foundary
The Fundere Foundary was established in 1995 and Fundere specialises in art bronze casting and sculpture fabrication in most mediums. Fundere Fine art produces artwork of the highest standard and offers a complete sculpture service from concept / design to production and installation.
Major commissions include:
MCG parade of champions 10 sculptures of Australian sports men and women who have excelled at the MCG
Australian War Memorial, RSLs and ANZAC memorials
Church a wide variety of saints Australia wide including Mary McKillop
Donation Targets & Support
Business & Industry – 20 businesses donating $10k each
Government – Funding on $ for $ basis
Community – Community fundraising
If the whole of industries, business, government and community help we can create a strong vision and future for Robinvale and Euston!
Please Pledge Your Support
You can pledge support to assist us in transforming Robinvale and Euston and building a future that's tangible and possible. Stay tuned as we'll show how you can help make a difference. Businesses and individuals pledging $5000 or more will have their logos listed here. Tax deductible donations can also be sent to:
Robinvale Euston Memorial Park Inc., PO Box 285, Robinvale VIC 3549
Commonwealth Bank    |    BSB: 063788    |    Account: 37391015    |    Robin Cuttle Statue

Location
Working with the Robinvale War Memorial Park committee a place is set aside for the statue. This will feature prominently with a view from the Murray Valley Highway near the bridge. Over time the park will become a destination for visitors both nationally and internationally.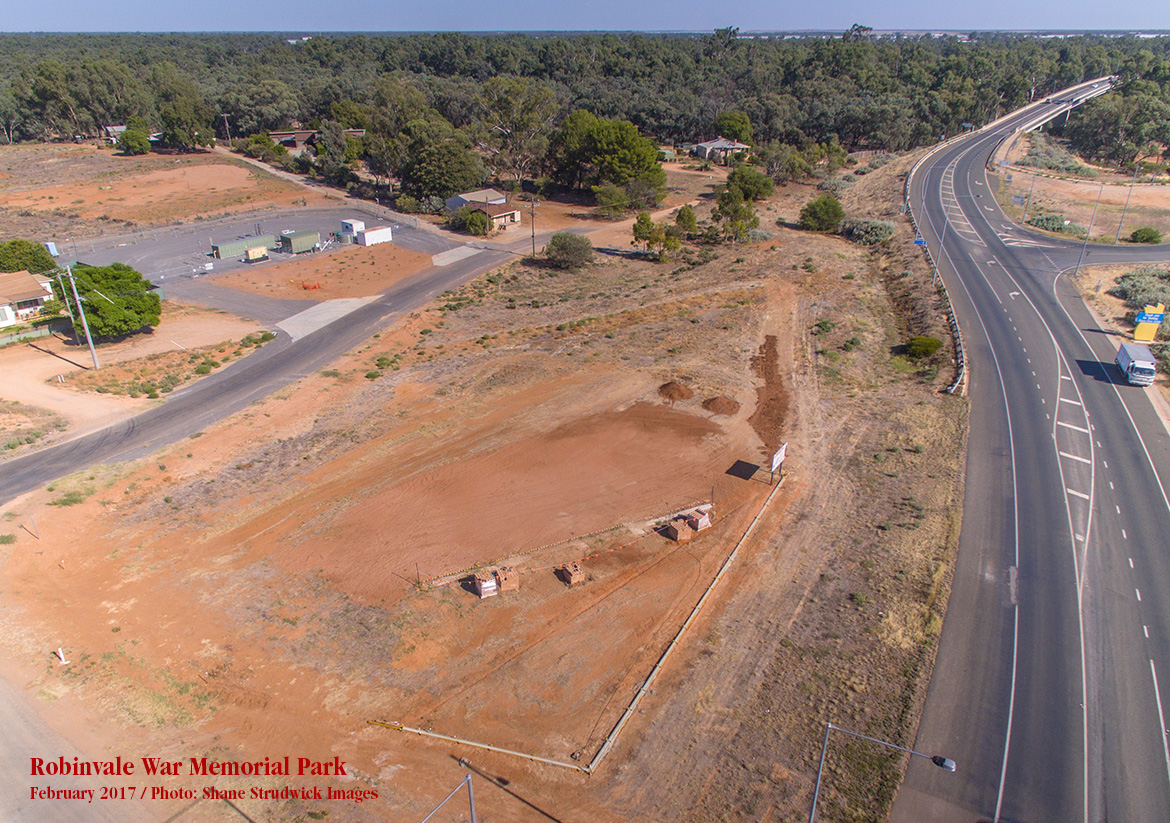 Media
ROBINVALE is best known for its almonds, grapes and olives.
But the town — in Victoria's northwest, by the Murray River in the Mallee — is slowly emerging as the Australian home of the Anzac war spirit.
In particular, Robinvale's link to the Western Front town of Villers-Bretonneux in France, known for some of the most savage fighting of World War I, which ranks alongside the likes of Gallipoli and Kokoda in the national psyche.
The town's war connection, says Robinvale's Narelle McClure, first began when the area was named after the son of founding family Herbert and Margaret Cuttle in 1924.
"Their son, Robin, was killed in air combat over Caix, near the village of Villers-Bretonneux, in 1918," Narelle says.
"The town is Vale Robin, in memory of their son."
As such, Robinvale today has Caix Square and many roads are named in honour of our nation's war history (Narelle lives on Bengazi Rd).
But the town's war connection goes much deeper.
When travelling to Villers-Bretonneux in France, the first road sign to greet visitors is one that proudly proclaims Robinvale, Australia, as its twin town.
And just as Robinvale has Caix Square, the Villers-Bretonneux village centre has been named Robinvale Square.
Narelle, the secretary of the Robinvale Villers-Bretonneux Association, says the official twinning ceremony took place in France in 1984, and last year a group of 30 dignitaries from France visited Robinvale to commemorate the 30th anniversary of the union.
"Our association has about 60 members and we meet every second month to organise biannual trips to France for Robinvale College students and town members, while we often host residents of Villers-Bretonneux who visit," Narelle says.
Right now, the association — whose official headquarters are in a room of the Cuttle family's historic homestead, Robinswood, a public museum — is planning activities in the lead-up to the 100th anniversary of the Battle of Villers-Bretonneux in 2018.
Narelle says it was during the French visit last year that the mayor of Villers-Bretonneux turned the first sod of the planned Robinvale Euston War Memorial Park, located on the road out to Mildura. It is hoped the park will be finished in time for the centenary commemorations.
"It will be a memorial to those who served in all wars, but will primarily acknowledge World War I and Robin Cuttle and have an area dedicated to Villers-Bretonneux," Narelle says.
"It will be a park and its main feature will be a 6m-high metal cut rising sun, which features on the Anzac badge." Discover Murray River director Shane Strudwick says Robinvale is a little known "jewel in the crown" of Australia's war heritage.
"The story of Robinvale's war connection is highly unique, there's nothing like it around Australia and at the moment it is untapped," says Shane, a history buff and the creator of a website dedicated to the new war memorial and another about the Murray River War Trail.
"Gallipoli and Kokoda have been central to Australia's war identity, but more recently people are beginning to understand the significance of Villers-Bretonneux."
Shane says if not for Australian troops in the closing stages of World War 1, Villers-Bretonneux and the whole western front would have been laid open to the German army.
He says Australian interest is growing in the French connection following the beginning of work this year on the new Sir John Monash Centre, to be located at the Australian National Memorial site near Villers-Bretonneux in France, which will be opened in April 2018.
"I think Robinvale could become Australia's dedicated regional war memorial and even have live crosses on Anzac Day to Villers-Bretonneux," Shane says.
"I'm not even sure all the Robinvale community understands the incredible significance of its war connections.
"I think we have something special and precious here that is worth growing and fostering."
---
About Robin Cuttle
Lieutenant George Robin Cuttle, MC from Robinvale (after whom the town was named) was amongst thousands of Australians who fought courageously to liberate the Western Front and Villers-Bretonneux from the Germans during WW1. The Cuttle family purchased a lease in 1912 in what was then Bumbang Peninsula with the property known as 'The Cliffs'. Their son Robin who completed his schooling at Caulfield Grammar became the manager in 1914. The Cuttle's operated 'The Cliffs' as a grazing and cropping property and in early 1913 began pumping water from the river for agricultural irrigation.
Following the outbreak of World War 1 in 1914 Robin tried to enlist in the Australian Imperial Force but was rejected. But he was determined. He sailed to England and tried to enlist in the Royal Flying Corps but was again rejected as too heavy or too tall for the flying machines. Robin's mother says he was 6 feet 5½ inches in his socks and weighed over 16 stone. Robin joined the Royal Field Artillery, the Royal Scots 9th Division, instead.
In November 1916 Robin was awarded the Military Cross (MC) following an engagement at Butte de Warlencourt (Somme). He was decorated by His Majesty King George V at Buckingham Palace on 12th May 1917.
Robin then transferred to the Royal Flying Corps, completing his training and then returning to France in December 1917. He flew photo reconnaissance and bombing missions. On 9th May 1918 while returning from a bombing raid on the Peronne railway station Robin's plane, 'Tuff Guys' was shot down. He remains in an unknown grave at Caix, 10 km from Villers-Bretonneux.
Thousands of Australians continue to visit Villers-Bretonneux, France each year. The Australian Government has invested over $100m in the development of the new Sir John Monash Centre behind the Australian National Memorial at Villers-Bretonneux. This is Australia's most significant overseas war memorial. The battle at Villers-Bretonneux rates as important as Gallipoli. The Robinvale Euston Memorial Park Committee have also developed a visionary long-term plan to commemorate the ANZAC Centenary that honours those who've served our country.
The Robinvale Villers-Bretonneux Association have worked closely since 1984 to increase Australia's spiritual connection to the ANZAC legacy and France for all Australian's to appreciate. Robinvale's proud war heritage continued after WWII where the surrounding land was acquired and parcelled up as part of the soldier settlement scheme, and was principally used for agriculture as it is today. Many of the streets in the town are named after significant war battles Australian's have served in over the years.
This vision of a Memorial Park and new Robin Cuttle Statue allows forever Robinvale and Euston an opportunity to develop a unique Australian tourism experience that will deliver long term economic development and growth for many, many years that would position the town as Australia's Regional War Memorial Centre. A unique and wonderful opportunity to grow and prosper the town's future. Every little bit of support helps a new future! To build and secure Robinvale's future we are fundraising $200,000 for the statue's development and building an opportunity, future and legacy for many years to come!

Please pledge your support for
Robin Cuttle bronze statue
Tax deductible donations can also be sent to:
Robinvale Euston Memorial Park Inc., PO Box 285, Robinvale VIC 3549
Commonwealth Bank    |    BSB: 063788    |    Account: 37391015    |    Robin Cuttle Statue